Changing table furniture
Hygiene and care furniture
Changing table sink module with shower
We have a variety of changing facilities of different shapes and sizes, along with accessories such as steps and removable drawers. To facilitate the care and ensure the welfare of children, there are also sinks with removable shower heads, cabinets with individual compartments for changes, protected transparent drawers, hygienic containers, toilet roll holders and cup-holders for preschool.
---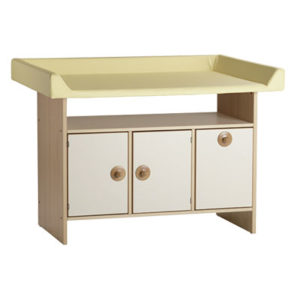 CHANGING TABLE
Simple, economical changing table. Can be equipped with a ladder.
WASH BASIN UNIT WITH SHOWER ATTACHMENT
With ceramic basin and pull-out shower attachment. Same design as changing table.