Wall panels, mirrors and decorative elements
Our organizer furniture is a highly modular system that allows the creation of corner spaces and partition walls. The exposed back of the furniture can be hung with mirrors, cork panels and whiteboards. The furniture can be completely disassembled and its parts are separately replaceable. This feature extends considerably the life-cycle of these furnishings and facilitates final disposal. The edges, in ABS, are rounded and naturally painted. Doors are equipped with cushioning pads and handles are available in wood and antishock leather. The wooden feet are adjustable and, on request, can be replaced with lockable wheels.
Our accessories and Wall panels complete the range of furniture and extend functionality. Partitions, shelves, mirrors, radiator covers and decorative elements are all coordinated by design with the rest of the GAM furnishings so that they can be placed into any context to maintain the harmony of the whole.
---
QUIOLÀ 70
An innovative system for building spaces suitable for children and various activities. Different panels come together to form multifunctional equipment walls, enriched with mirrors and bookshelves. Modules with holes and larger portholes allowing children to peek or climb through. A door gives the interior space some intimacy. Quiolà is the simplest solution for functionally splitting very large spaces, thus facilitating children's orientation.
QUIOLÀ 100
Quiolà 100 is one metre high, to define areas suitable for older children and to connect to higher cabinets. A hanger panel allows attachment of organizers, whiteboards and inclined drawing surfaces. With just a few panels little houses and dens of mirrors can be constructed.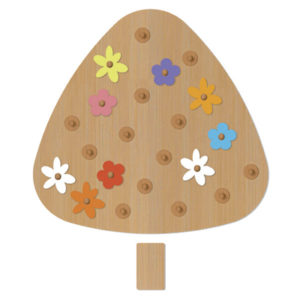 ALBERI DEI POMELLI
Knobs in the place of apples. Because on these knobs can be hung coloured discs, drawings of fruit, invented flowers, real leaves, animals, wire, photos and a variety of drawings and objects. The tree changes every day, thanks to the imagination of children and educators.